GLASGOW LIVE (SATURDAY)
Saturday 4th December 2021
All events at Centre for Contemporary Arts (CCA) unless specified
View Map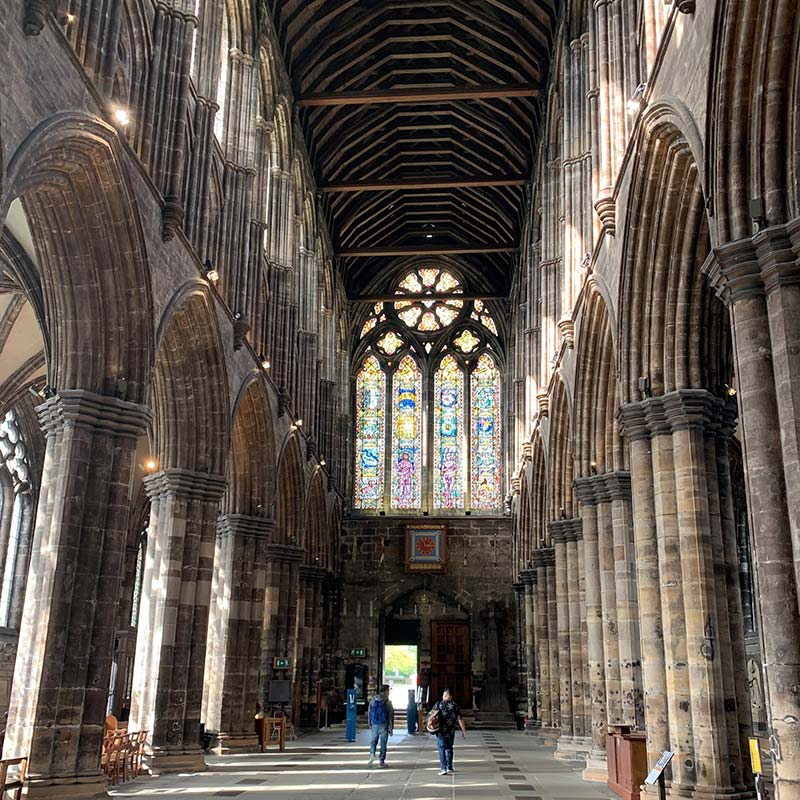 Carols at Glasgow Cathedral
Carols from Glasgow, Jerusalem and Bethlehem
Date: Saturday 4th Dec 2021
Time : 17:00 (UK)
Duration : 60 mins
Carol service with the Lord provost and Rev. Mark Johnstone. With readings and carols from Amwaj choir and the Youth Choir of Talitha Kumi school, including an Armenian Christmas-related song by Amwaj with solo singer Levon Kalaydjian.
Note this is a free event

Read bios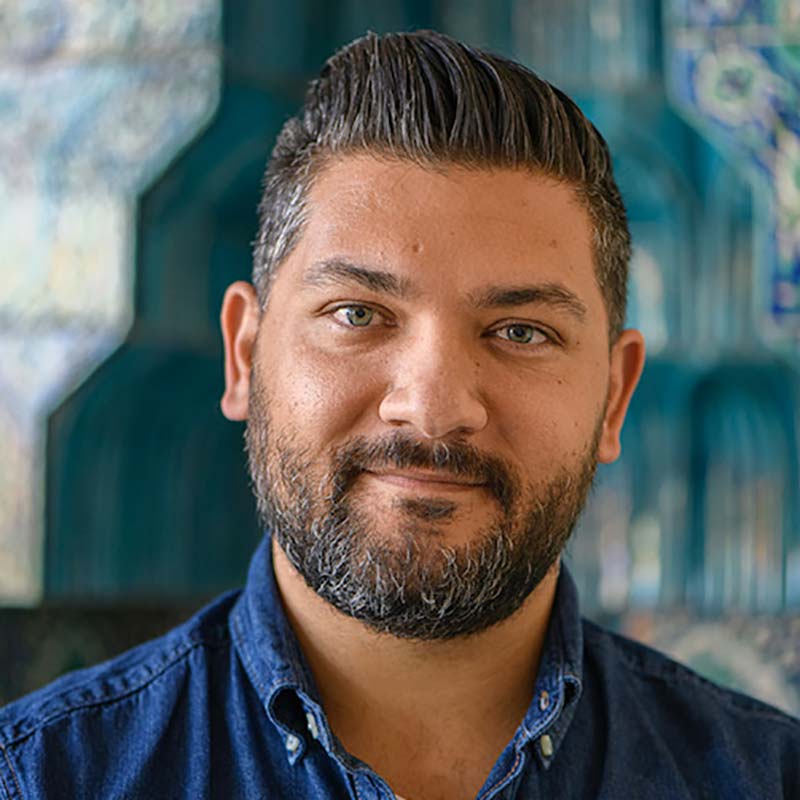 Levon Kalaydjian
Levon Kalaydjian, born in Jerusalem is an Armenian vocalist and interdisciplinary artist. He studied Art, Music and Politics and speaks four languages . He sings different music genres ,
mainly focusing on folk and traditional pop.
Amwaj Choir
Amwaj is both a choir school with two branches (in Hebron and Bethlehem) and a performing choir that focuses on national and international exchanges. It is also a social project, where the
young singers attend all weekly classes and extra-curricular activities free of charge.
Led by a mixed team of French and Palestinian educators, Amwaj allows children and youth to access high-quality music tuition through an intensive pedagogical program based on collective
singing. Today, Amwaj counts 50 girls and boys, whose ages range from 8 to 18, from the Bethlehem region (towns, refugee camps, rural areas) and Hebron (old city and new city).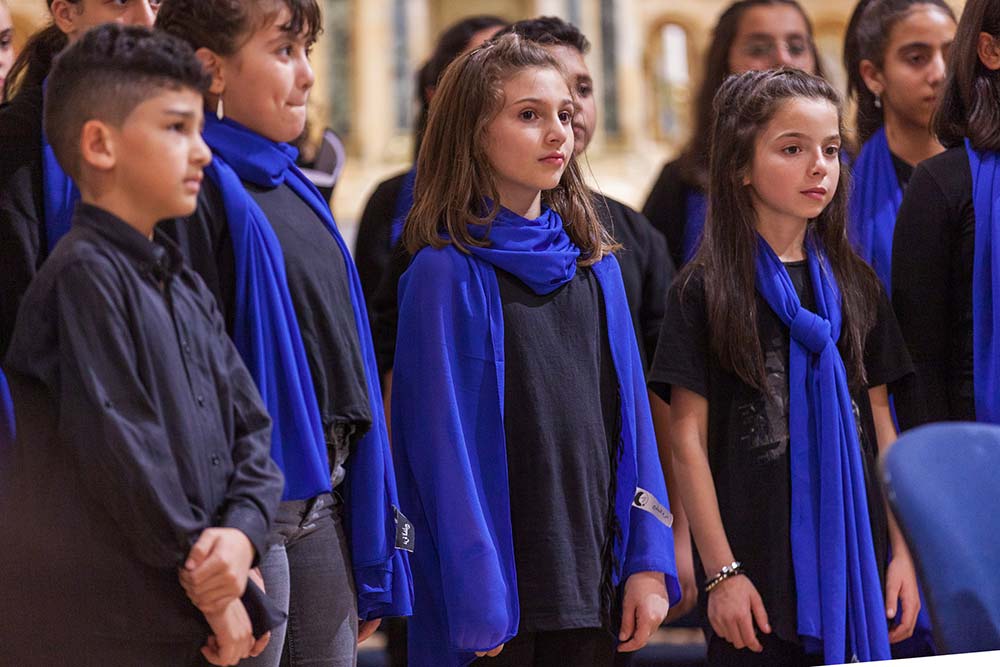 Amwaj Choir (Hebron and Bethlehem)
Adam Saheb, Ahmad Abuallan, Ahmad Abulhalaweh, Ahmad Rahhal, Ali Qaraqe, Ali Rahhal, Amal Alberberi, Ameer Natshe, Amir Jamal, Aref Khaleef, Aws Hreibat, Bayan Abuallan, Diana Abueisheh, Diana Zahran, Diyar Aljamal, Fakhri Shweiki, Ghina Abuallan, Ghina Qawwar, Jalal Zahran, Jude Abueisheh, Judy Alwardi, Judy Qawwar, Kenzah Alwardi, Lana Alhaymouni, Lina Shweiki, Mahmoud Katbeh, Majd Abulhalaweh, Mariam
Faraj, Masa Abueisheh, Mira Natshe, Mohammed Shweiki, Nairouz Hosheya, Narmeen Karbon, Noor Mashni, Ranim Karbon, Rayan Shaheen, Reem Madhun, Rula Hreibat, Salma Alhaymouni, Shaden Zboun, Shams Abunima, Sulaf Madiah, Tala Abuomar,
Yacoub Natshe, Yasmeen Abunimah, Younes Natshe.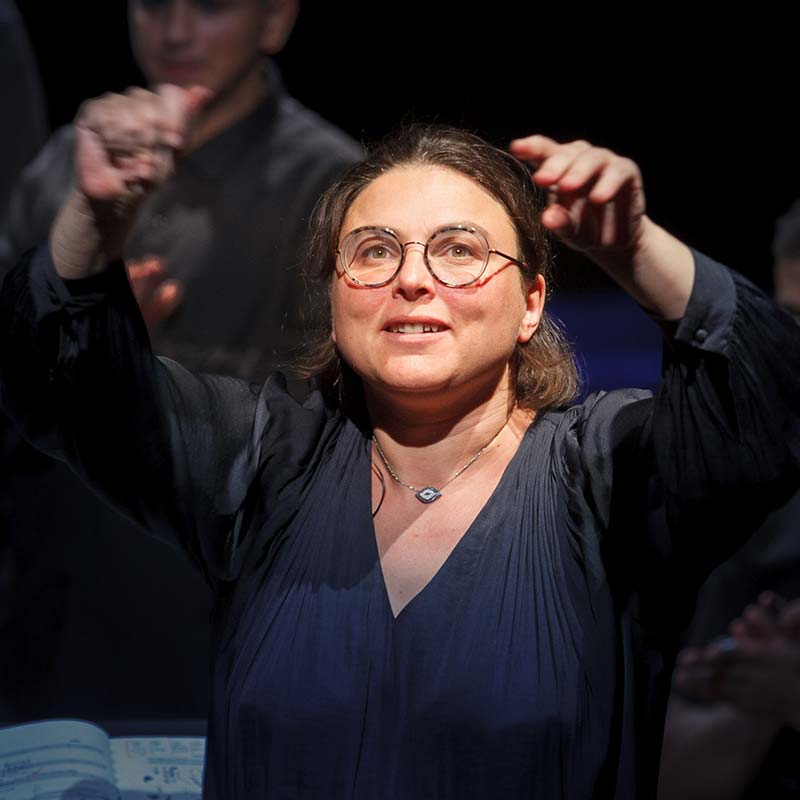 Conductor Mathilde Vittu
French musician Mathilde Vittu has a number of strings to her bow, including violin and viola, choral and orchestral conducting, musicology, arrangement. PhD of the University
Paris-Sorbonne, she has received many awards from the Paris Conservatory and the French Ministry of Culture. She has published mainly about French baroque music.
Interested in Arabic culture and music, she taught for a year at Sultan Qaboos University in Muscat and in 2013-2014 at the Edward Saïd National Conservatory of Music in Palestine. Since September 2014, she is Professor of Musicology at the Paris Conservatory, co-founder and Artistic Director of the Amwaj Choir in Palestine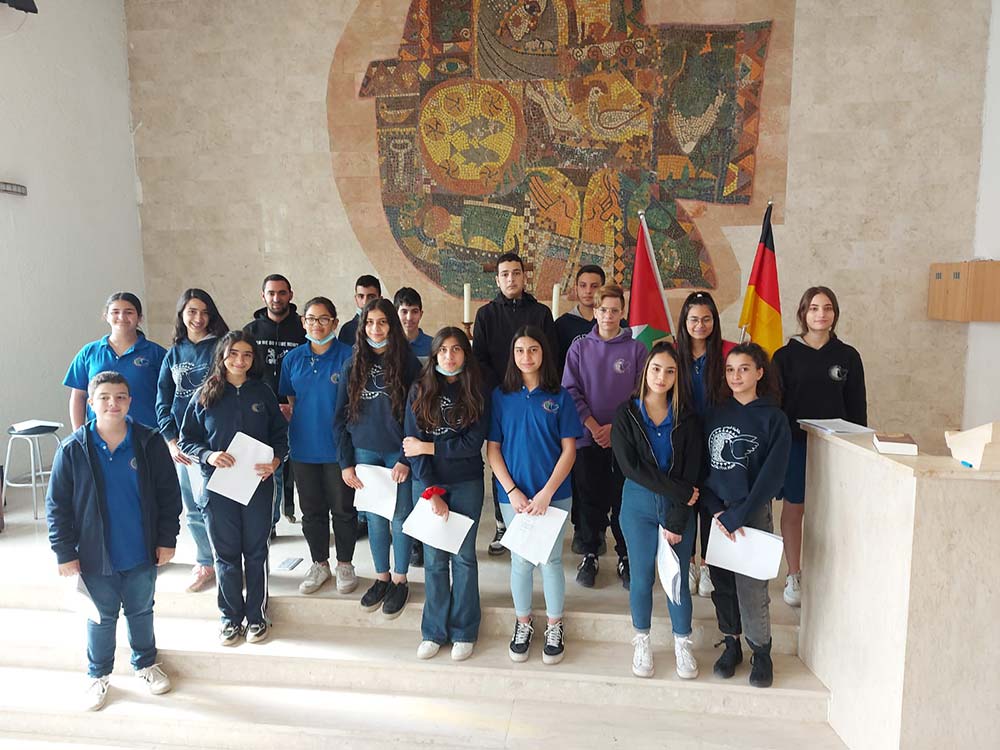 Talitha Kumi Youth choir comprises 20 students aged 13 to 17, performing varied styles of choral music. The choir has performed throughout Palestine as well as in Germany. It
is regularly invited to perform at the Christmas markets of Beit Jala and Ramallah as well as for the Tree Lighting ceremony in Beit Jala.
Sabeen Dukmak, Miral Habibeh, Matilda Abo Amsha , Jala Abo Amsha, Mais Alaraj, Lamita Habebeh, Tala Taweel, Daniel Kharofeh, Doaa Alkhateeb, Karen Alalam, Maya Saras, Maria Alshatleh, Andrews Alshaer, Josafe Kunkar, Anji Emaya, Laith Jaidy, Michael Asmari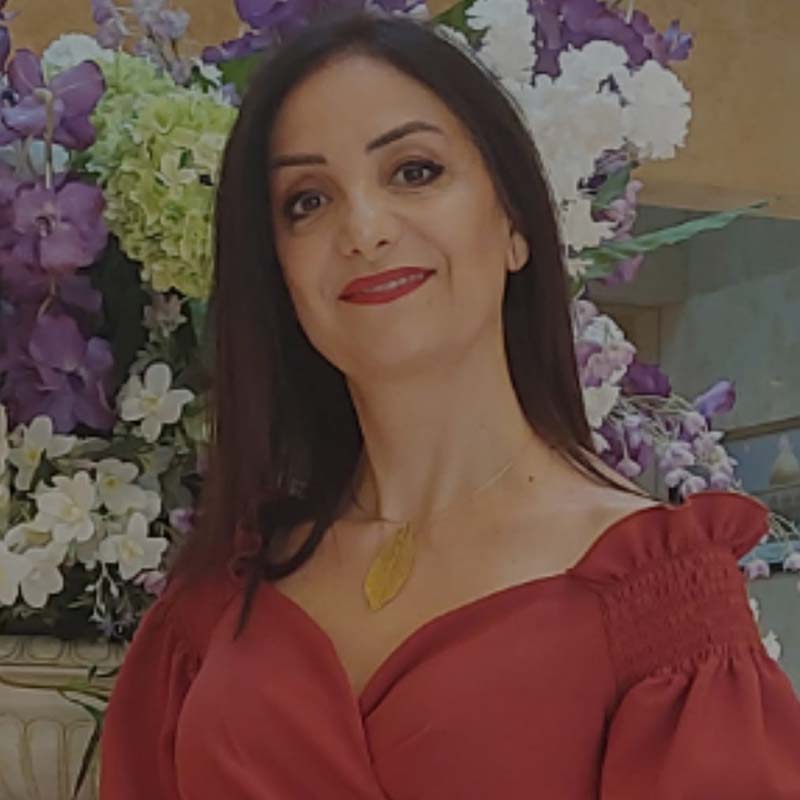 Conductor Reem Handal
Pianist, composer and conductor Reem Handal studied church music at Saint George's Cathedral in Jerusalem. She teaches music at the Talitha Kumi school since 2003 and conducts the Saint Catherine's choir since 2002. She is the executive manager of the Bethlehem Academy of Music, where she also teaches piano. Her compositions include vocal and instrumental works, she has performed both in Palestine and abroad
(Germany and France) and she has published several music-teaching books.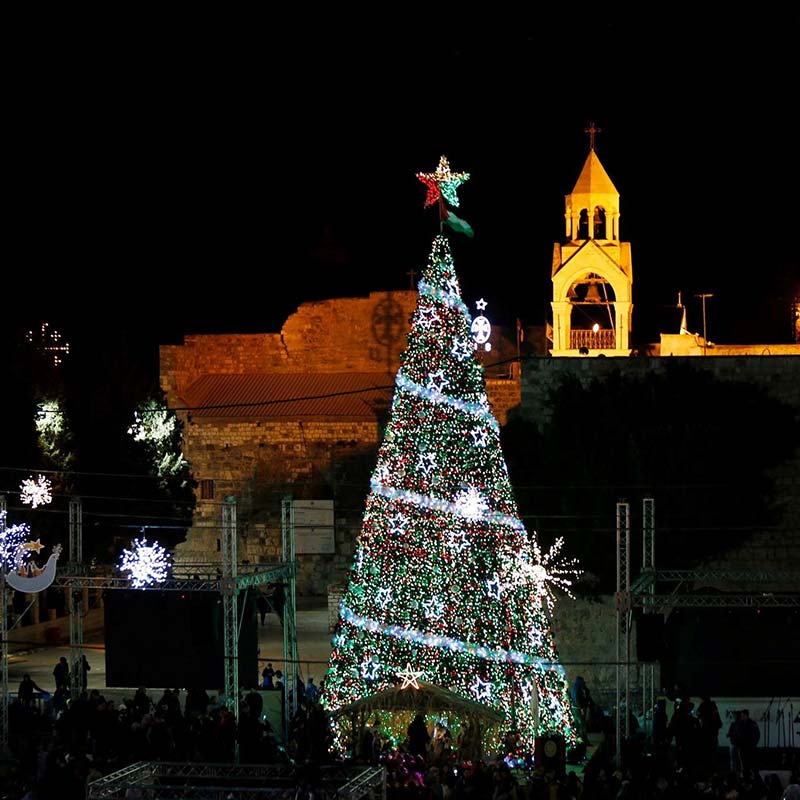 Lighting of the tree in Bethlehem and Glasgow
Coordinated tree lighting between Bethlehem and Glasgow
Date: Saturday 4th Dec 2021
Time : 17:45 (UK)
Duration : 15 mins
Coordinated tree lighting at 17:45 UK time between Glasgow Cathedral and Manger Square, Bethlehem, followed by a candle-lit procession outside.
Note this is a free event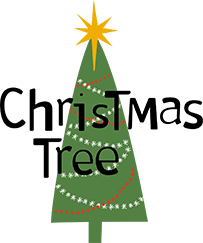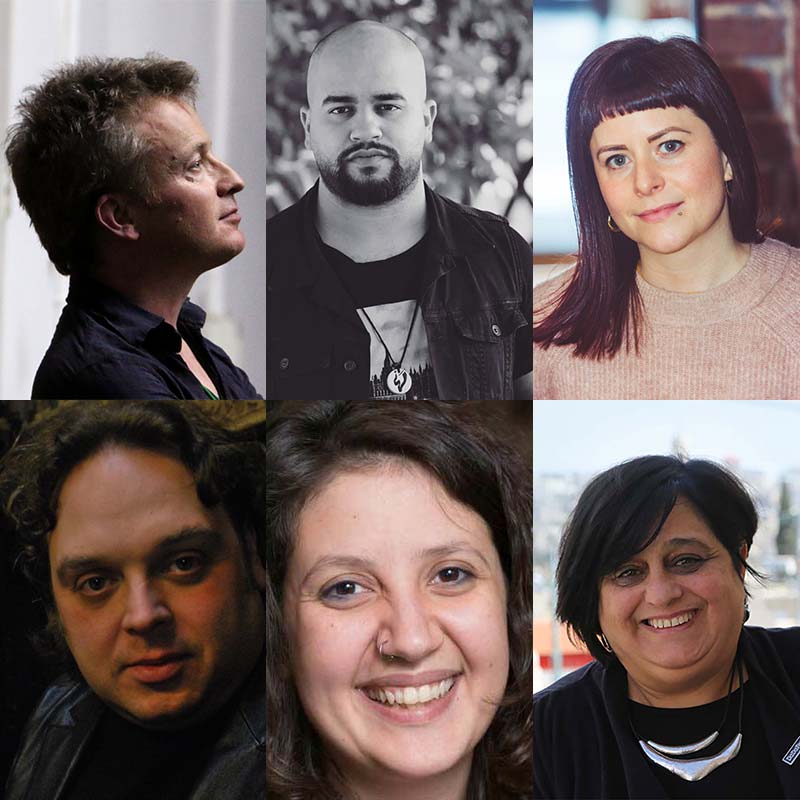 Bethlehem Site-Specific Festival
Ben Harrison and Allie Butler from Grid Iron Theatre, Marina Barham and Adnan Al Bobali from Al Harah Theatre and Sara Shaarawi, in a discussion chaired by Mark Brown
Date: Saturday 4th Dec 2021
Time : 18:30 (UK)
Duration : 50 mins
Ben Harrison and Allie Butler from Grid Iron Theatre and Marina Barham and Adnan Al Bobali from Al Harah Theatre, Bethlehem, discuss their collaborative project, the Bethlehem Site-Specific Festival. They are joined by playwright Sara Shaarawi, in a talk chaired by theatre critic Mark Brown. A short trailer of their project will be shown.
In partnership with British Council

Read bios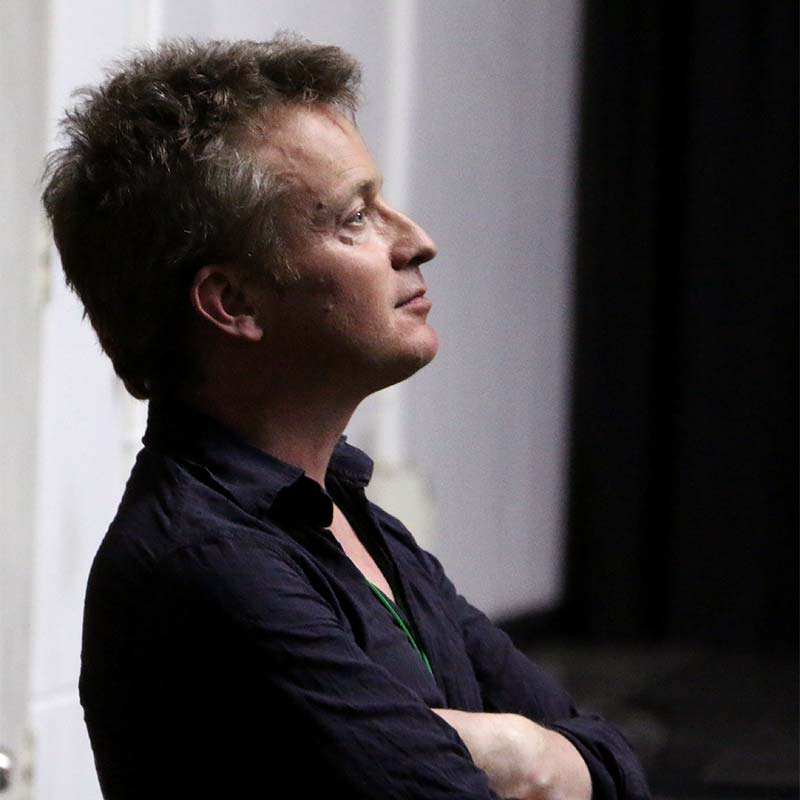 Ben Harrison
Ben Harrison has directed over 75 professional theatre productions, and has been Co-Artistic Director of Grid Iron from 1996. Since then, the company has won over 30 awards for its work, and he has directed 29 of the company's productions. Highlights for Grid Iron include: The Bloody Chamber, Gargantua, Decky Does A Bronco, Those Eyes, That Mouth, The Devil's Larder, Roam, Barflies, Spring Awakening, Crude, Jury Play, South Bend, The Brunch Club and Doppler.
Harrison directed the only live theatre event to take place in the UK in February 2021, Chalk Walk. He was Associate Director of the Almeida Theatre in London from 2000 to 2002, for which he created the acclaimed Participatory Projects programme and directed seven productions. From 2001 to 2004, he was a Fellow of the National Endowment for Science, Technology and the Arts, which supported his research and development of site-based work. He was Director of the Dutch company Muztheater from 2004 to 2008, for which he directed five productions. His show Peter Pan for 360 Entertainment was seen by more than a million people in London and across the USA between 2009 and 2015, and his recent freelance work includes Chalk Walk for Ben Harrison Productions, The Park for the National Theatre of Scotland, A Game of Death and Chance and Enlightenment House for the National Trust, The Buke of the Howlat for Findhorn Bay Arts, The Tailor of Inverness for Dogstar and Let's Inherit the Earth for Dogstar/Profilteatern.
He has worked extensively in the MENA region, including multiple projects in Lebanon between 2004 and 2012, most notably Those Eyes, That Mouth / The Story of the Death of Najib Brax in 2005. He also co-directed Naw Nader Men Al Houb (Grid Iron/Takween Arts) in Amman in 2004, and also conducted an extensive period of research for the NTS project Bint Jbeil in Beirut and Southern Lebanon in 2007-8. In 2013, he conducted a series of workshops on site-based work in collaboration with Temple Independent Theatre Company in Cairo, and in 2020, together with Allie Butler, he ran Grid Iron workshops with directors in Beit Jala and Bethlehem, which fed into the development of the Site-Specific Theatre Festival in 2021. He has also directed productions in Norway, Sweden, Australia and Ireland and run workshops in Portugal, Thailand and New Zealand.
Further information: www.benharrison.info.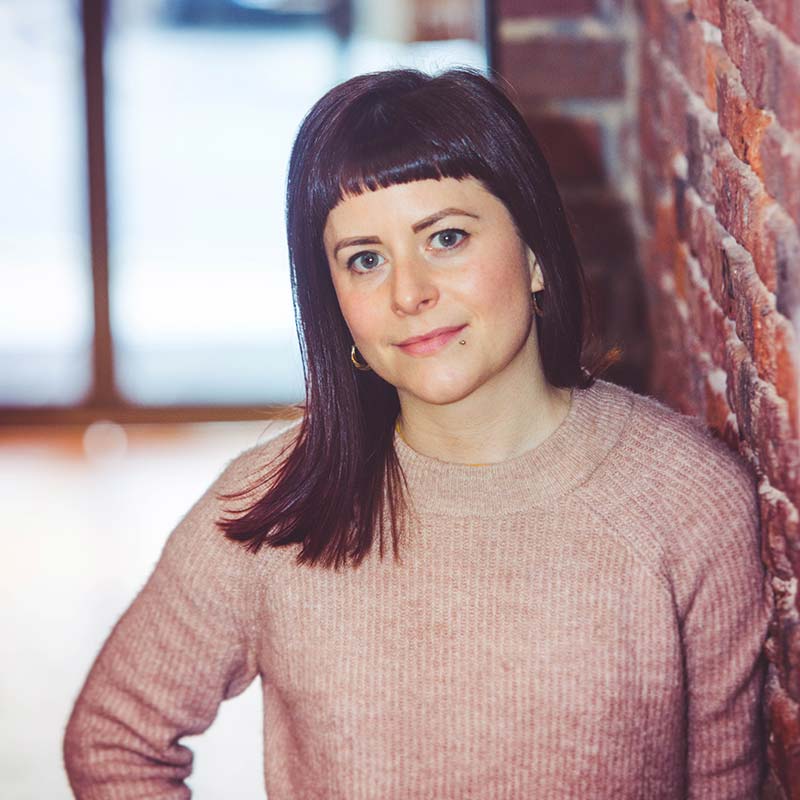 Allie Butler
Allie is a theatre artist and creative director of Tidy Carnage. She is currently preparing to direct a new production as part of the City of Culture celebrations.
Recent credits include: director of Scott Silven's The Journey, a global digital
tour performing across timezones and continents throughout 2020-2021; Here I Belong (Mull Theatre tour); A Game of Death and Chance (co-directed with Ben Harrison for National Trust for Scotland); Letters to Myself (UK tour); Descent (Oran Mor, Traverse, tour and nominated for two Critics Awards for Theatre in Scotland); Netting (Oran Mor, Lemon Tree and tour); What Sam
Told Me (Theatre 503); and Toilet (Southwark Playhouse).
Allie has worked with leading companies across the UK, including Clean Break, The Royal Court, Mercury Theatre Colchester, The Traverse, The Gate, The Tron, and the Arches.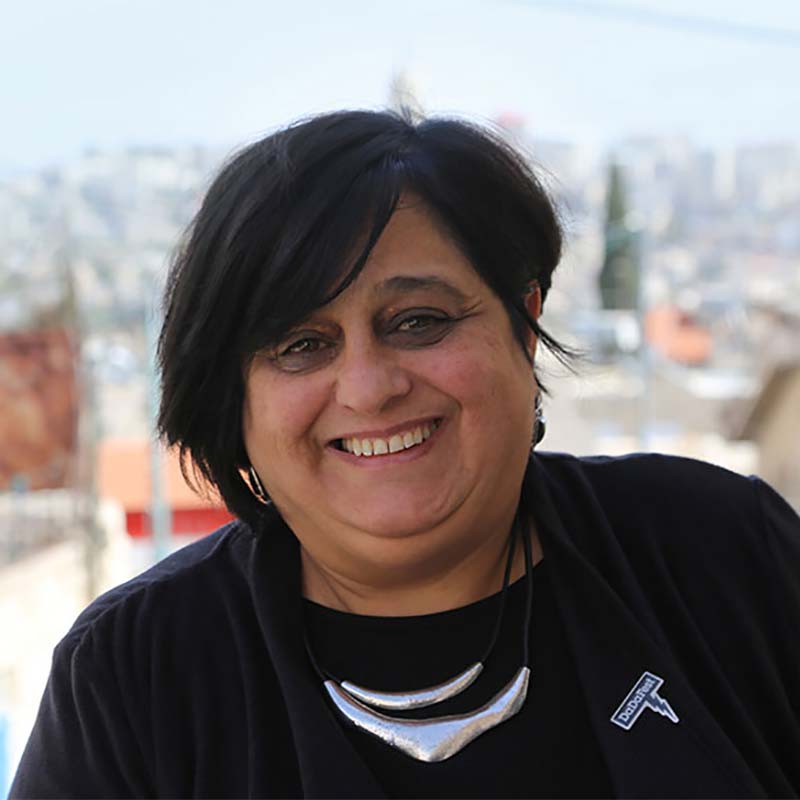 Marina Barham
Marina Barham, cofounder and General Director of Al-Harah Theater, and Al-Harah Performing Arts Training Center (PARC), President of the Palestinian Performing Arts Network, Palestine. Vice President of Euromedinculture Network and TAMASI Collective for Performing arts Organizations from the MENA Region. An active cultural operator in Palestine, the Middle East and in Europe.
A 2017-2018-2019 Fellow of ISPA and Fellow of Salzburg Global Seminar.
A Trainer in the field of Cultural Management in the Arab World. A speaker at several European conferences, festivals and events on the importance of performing arts in Palestine and the Arab world.
Produced many theater productions and coproductions. Managed and organized several international, regional and local tours. Managed several Euro-med Projects funded by the EU and organized Palestine International Theater Festival for Children and Youth & Yalla Yalla Street festival in Palestine.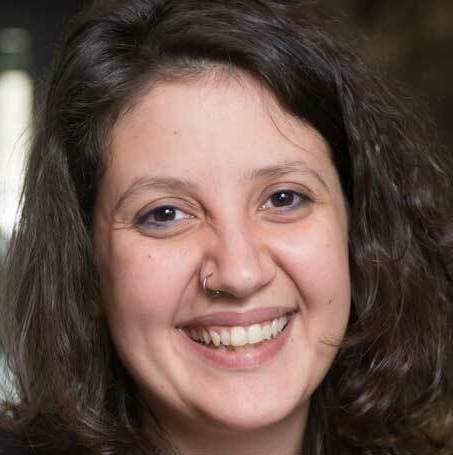 Sara Shaarawi
Sara Shaarawi is a playwright from Cairo, based in Glasgow. She has been working in the arts on a freelance basis for several years now, from creating work to organising events and project managing international work in the UK.
As a playwright, Sara has received development support from the National Theatre of Scotland, Creative Scotland, Playwrights' Studio Scotland, the Royal Shakespeare Company and the Edinburgh International Festival. She has had work read at the Tron Theatre (Glasgow), Traverse Theatre (Edinburgh), Village Pub Theatre (Edinburgh), Platform (Easterhouse), Rich Mix (London) and the CCA (Glasgow), and her plays have been produced internationally in Germany, South Africa and Uganda.
In 2017, Sara began to take on producing projects, most notably project managing the Arab Arts Focus showcase at the Edinburgh Fringe Festival and partnering with the Workers Theatre to crowdfund and create Megaphone, a new bursary aimed at supporting artists of colour based in Scotland. She was Executive Director of Highlight Arts between 2019 and 2021, and often works as an administrator for small film festivals in Glasgow.
In 2021, Sara's first play, Niqabi Ninja, was produced by Independent Arts Project (Edinburgh) in association with Hewar Company (Alexandria). It opened at Shubbak Festival in London, followed by a Scotland-wide tour and a run at the Edinburgh International Festival.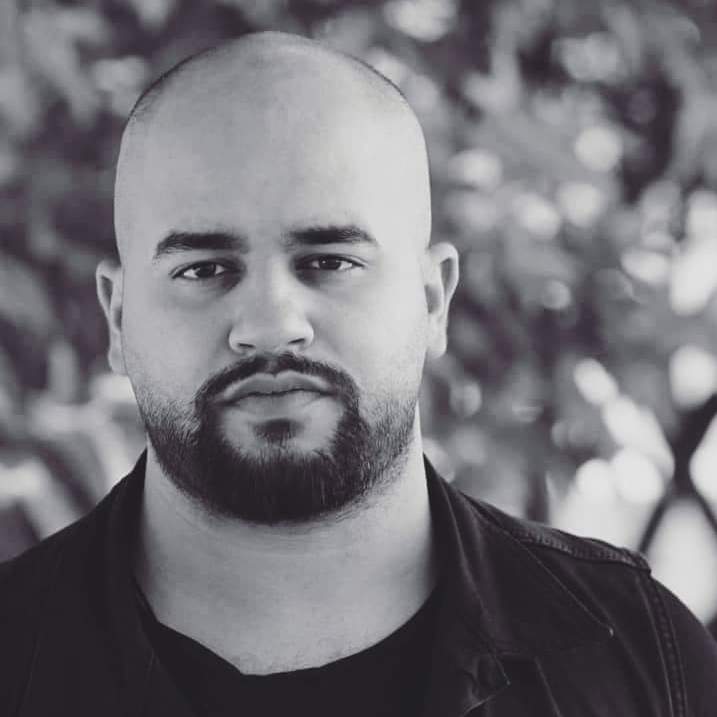 Adnan Bobali
Adnan Bobali is a Palestinian actor and director. He was born in 1993 in Nablus city, Palestine, and become involved in theatre at a young age. Adnan has participated in several plays, films and TV series in Palestine: "Don't be an Extra in this Play", "On the Edge of the Hole", "Darwish", "The Perfect Crime" and "Sons of the Mayor" TV series. He currently works as an activity coordinator at Nablus Municipality Cultural Centre, and also as a clown doctor with Red Noses Palestine. He has also been the Artistic Director for Rasayel Theatre Troupe in Nablus since 2015.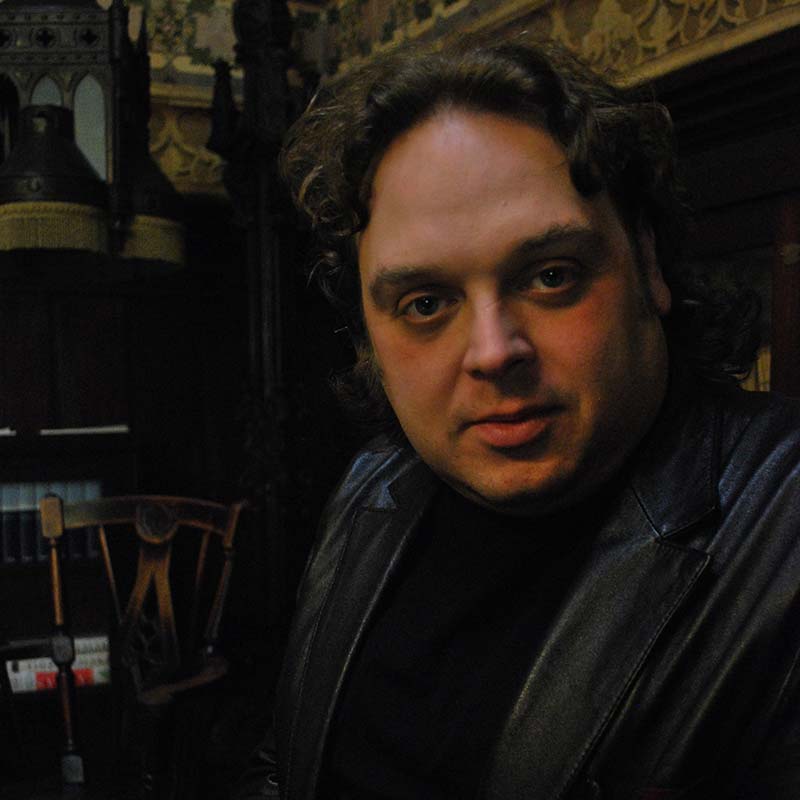 Mark Brown
Mark Brown is a theatre critic, journalist, teacher and activist. He is a regular contributor to the Sunday National newspaper and the author of the book Modernism and Scottish Theatre since 1969: a revolution of stage. He is a longstanding activist in the Palestine solidarity movement and a vocal advocate of BDS.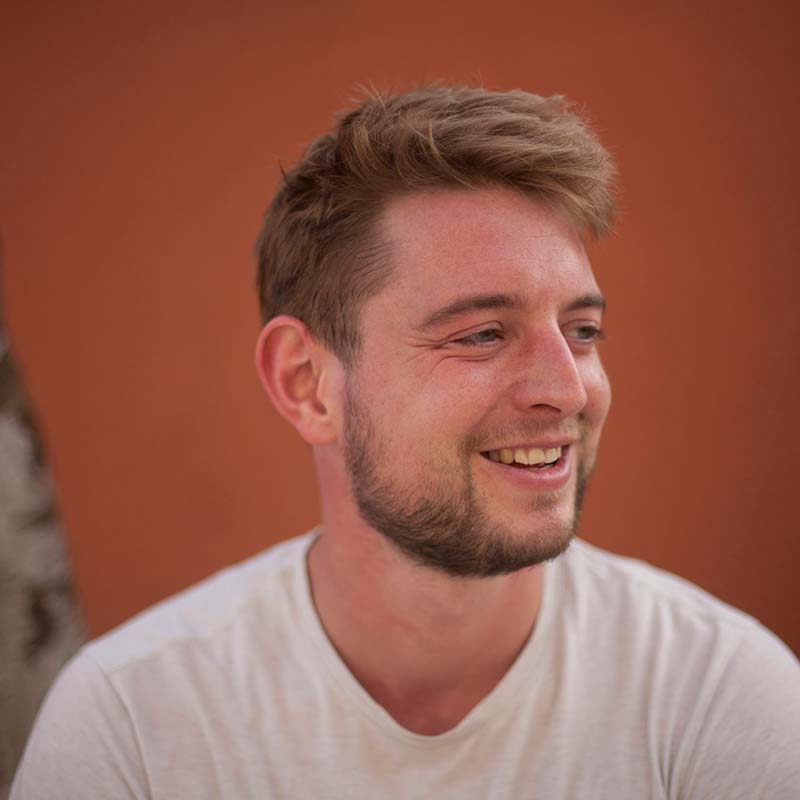 Urban Sport in Palestine
Charlie Davis from Skatepal: Film screening and presentation.
Date: Saturday 4th Dec 2021
Time : 19:30 (UK)
Duration : 50 mins
Charlie Davis, founder of Skatepal, shows a film and talks about his work in Palestine since 2006 with skateboarding and the establishment of Skatepal.

Read bios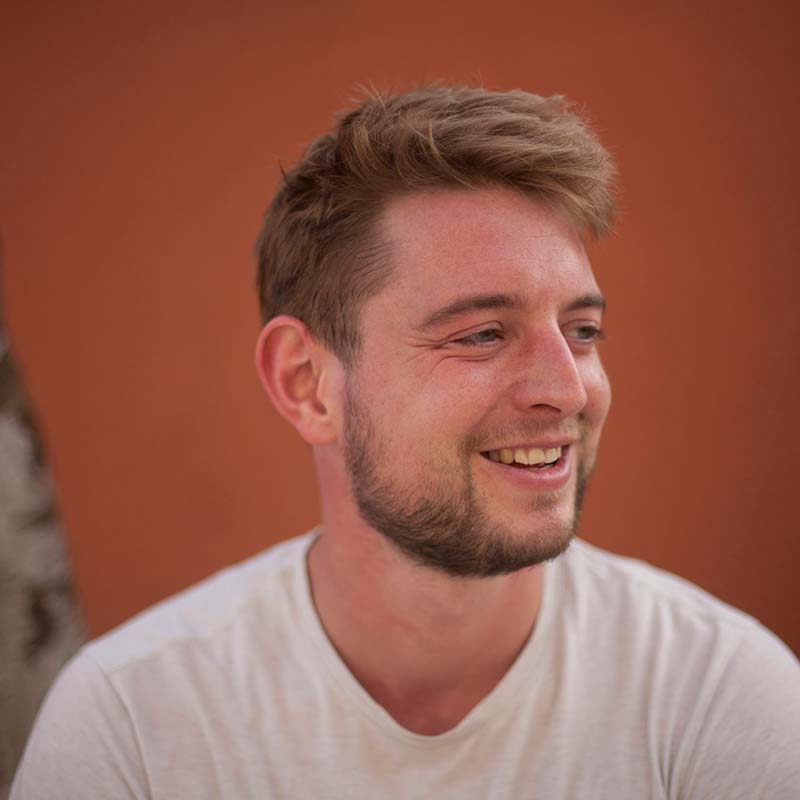 Charlie Davis
Founder & Executive Director SkatePal, MA Arabic
As a lifelong skater, Charlie first visited Palestine in 2006, volunteering as an English and music teacher, but quickly realised the kids were far more interested in skating! After several years of teaching and travelling in Palestine and the Middle East, and after studying an MA in Arabic at Edinburgh University, he went on to establish SkatePal in 2013. Within five years, over 200 volunteers from 25 countries had travelled out to Palestine to get involved with the charity's projects. Building skate parks across Palestine, Skatepal has brought together children of all genders and religions, breaking down boundaries and encouraging peaceful co-existence within Palestinian communities.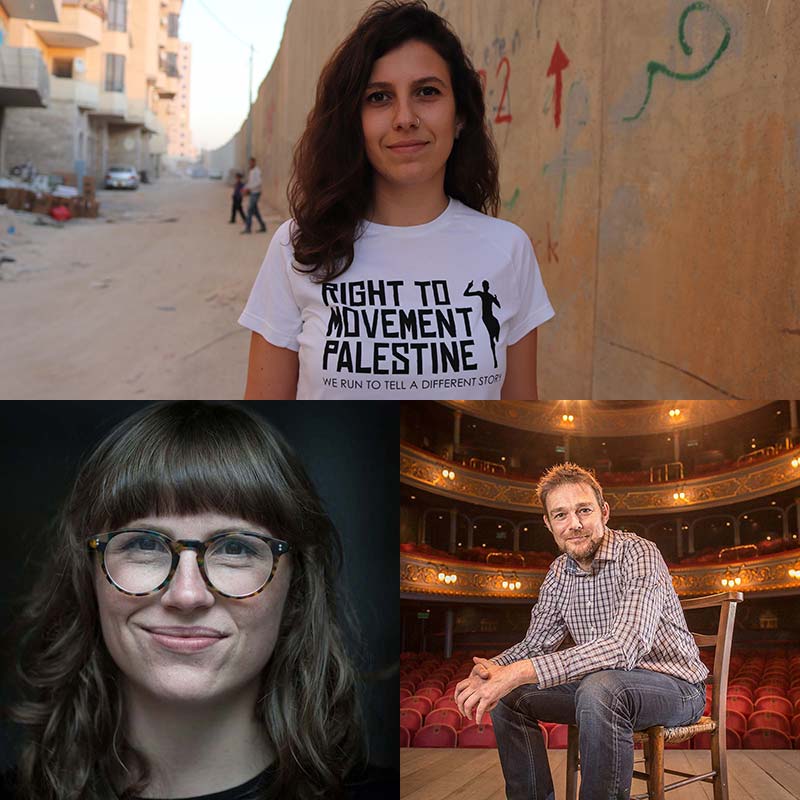 Running freely
Discussion between Cairsti Russell and Diala Isid
Date: Saturday 4th Dec 2021
Time : 20:30 (UK)
Duration : 50 mins
Cairsti Russell in conversation with Diala Isid about her upcoming film, Freedom to Run, and the Bethlehem marathon.

Read bios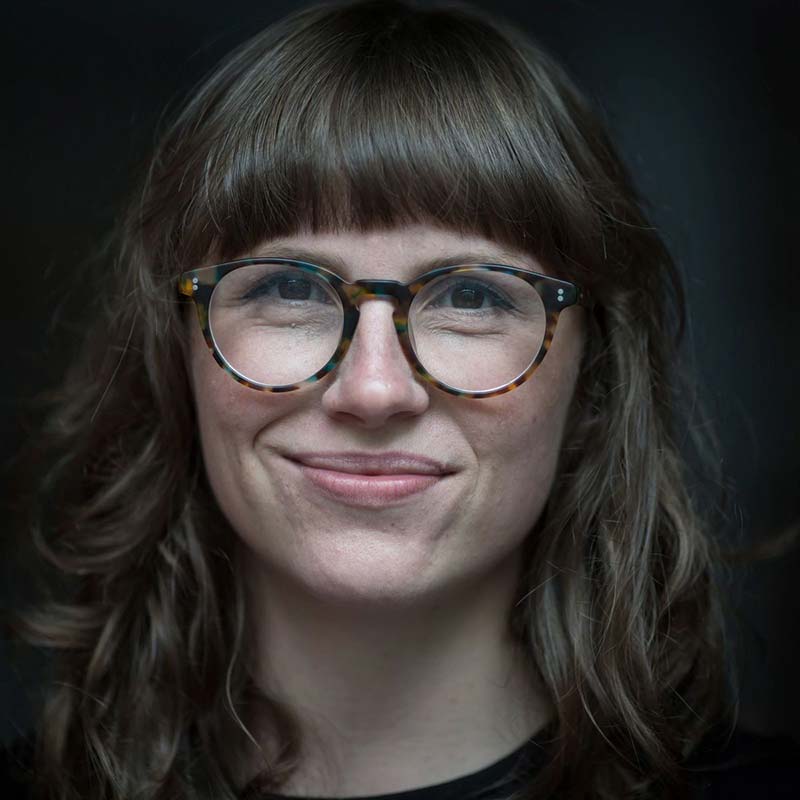 Cairsti Russell
Cairsti Russell is a sociologist, runner, and one of the filmmakers behind Freedom to Run. She recently successfully completed her PhD in Sociology at the University of Glasgow, which examined media coverage and audience understanding of the Israel-Palestine conflict. She previously worked on More Bad News from Israel, published by Pluto Press. She is currently a researcher and tutor at the University of Glasgow, and a member of the Glasgow Media Group.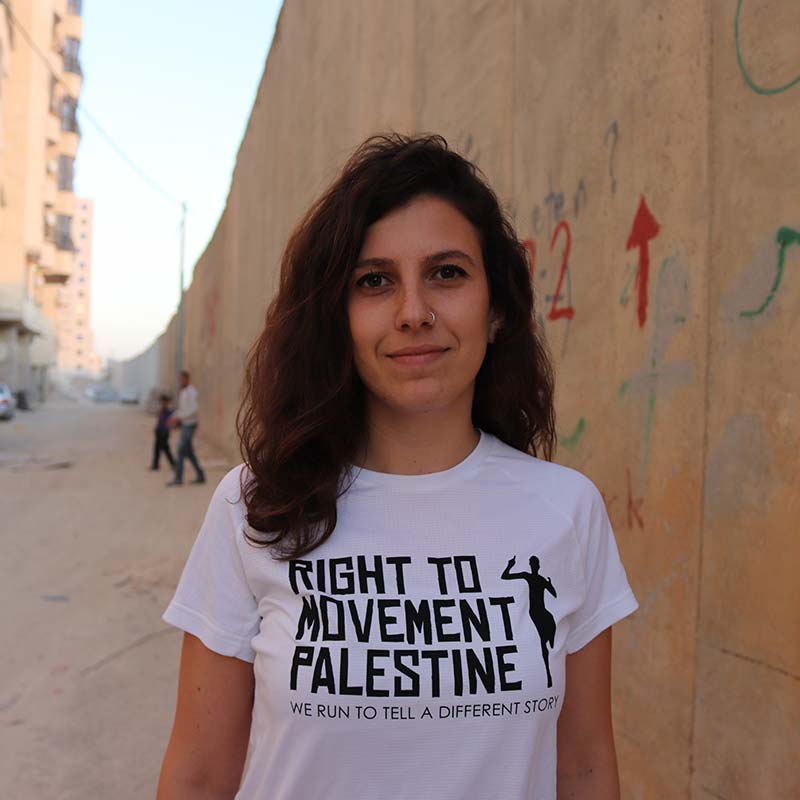 Diala Isid
Diala Isid is a Palestinian architect, activist and runner. She is co-founder of 'Right to Movement Palestine' (RTM) and a key player behind its wide outreach, as well as the founder of 'Plogging Palestine.' Diala completed her master's degree this year in Sustainable Energy and Entrepreneurship from the University of Nottingham, and she currently works as a renewable energy consultant in Nottingham. She is inspiring people, and especially women, to be active in society and to fight for freedom. She believes in the power of uniting people and working towards a good cause, and it is running that is the tool that helps her to be a proactive person, seeking to create positive social change and achieve gender equality.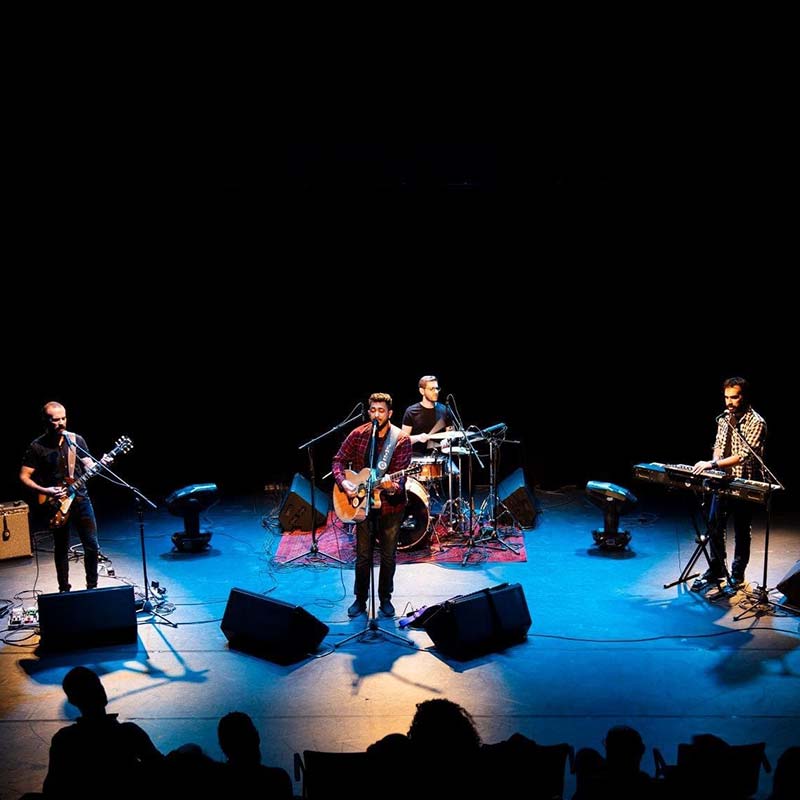 The End of the Night
Mafar
Date: Saturday 4th Dec 2021
Time : 21:30 (UK)
Duration : 7 mins
World premiere of Mafar's latest piece, commissioned by the Bethlehem Cultural Festival and based on the Mahmoud Darwish's poem collection, The End of the Night.

Read bios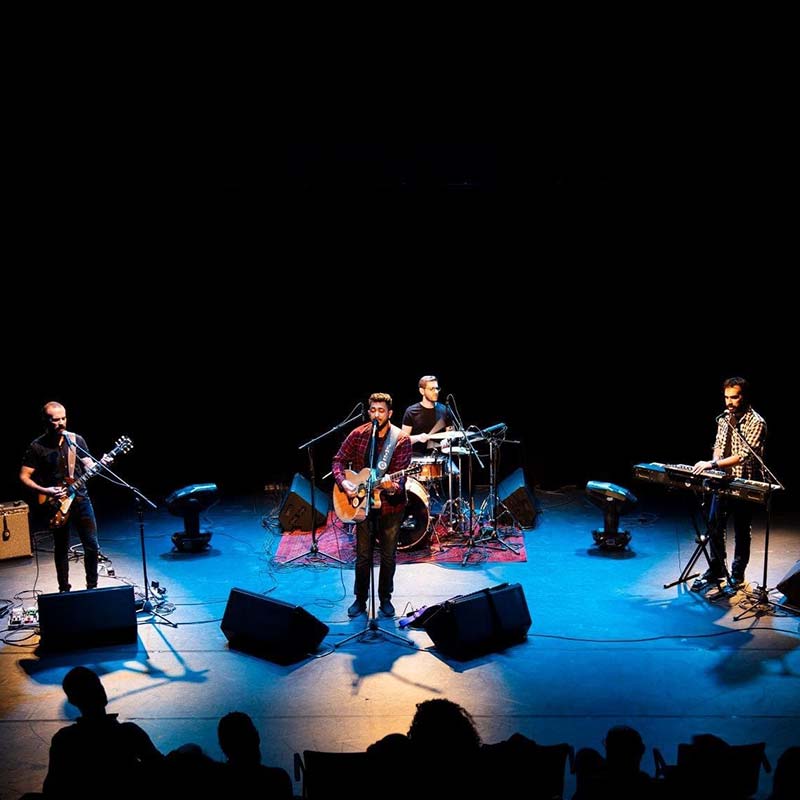 Mafar
Mafar (Arabic: مفر, translated as The Escape) is a Palestinian four-member alternative rock band. The band was formed in Palestine, Bethlehem in 2014 by the vocalist Jeries Babish and the guitarist Marwan Samamreh. The idea was to recreate a base for the alternative music scene in Palestine and to build a new scene for independent music in general. Mafar's first album, "Untitled" was released in July 2016 and contains 9 songs. Their second 10 track album, "VISA," was released in July 2019, and their single "Post-Apocalypse" was released on May 3rd 2020 during the Covid-19 pandemic.
Buy a ticket and you can come to just one event or come to them all – the choice is yours!
Each ticket allows one person entry to any event on the date of the ticket.