Day Two, Dish Two: Burbara
Posted on 4th December 2020
A special Palestinian recipe from Chef Fadi Kattan...
" Burbara celebrates the feast of Saint Barbara. The story says she converted to Christianism and her father was extremely upset. She hid from him in a wheat field and the wheat grew tall to hide her. In the Nablus area the dish is called Ashura, celebrating the first dish supposedly cooked by Noah after the flood. Both stories for me are a celebration way earlier of the wheat culture and fertility in the land of Palestine." 
Fadi Kattan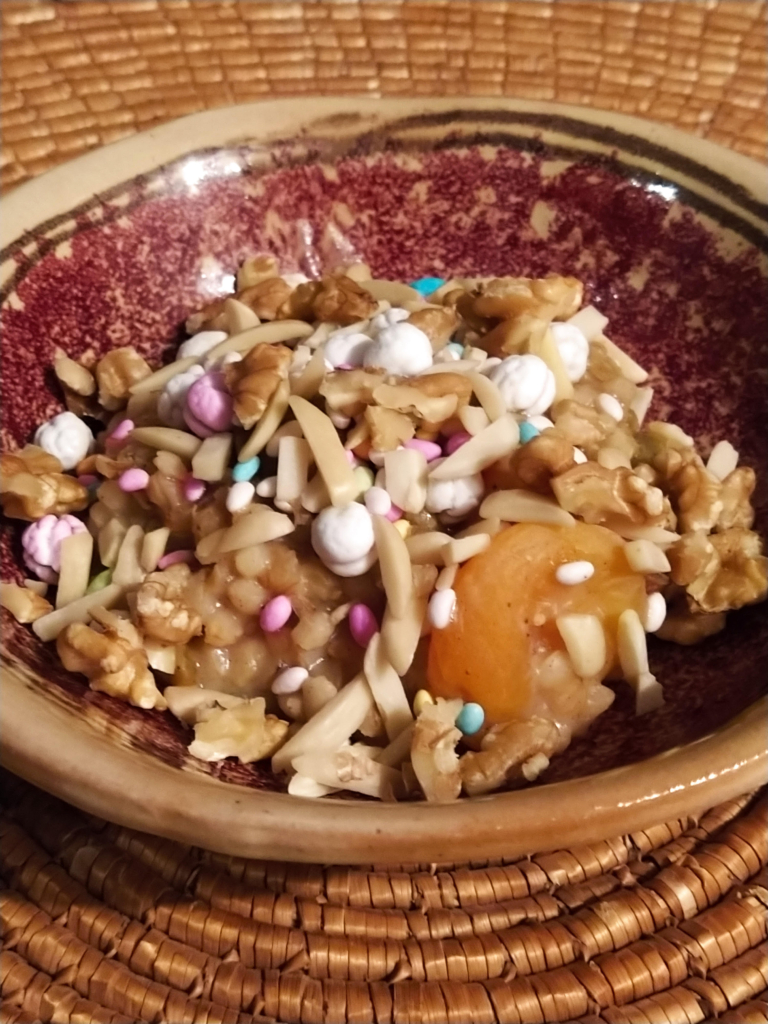 Ingredients
1 cup wheat berries
3 1/2 cups water + water for soaking the wheat
2 cinnamon sticks
1 tsp anise (ground)
1 tsp fennel (ground)
1/3 cup sugar
1 cup chopped dried fruits (apricots, raisins)
Instructions
1. Soak the wheat berries overnight covering them completely with cold water.
2. Drain the wheat berries from any excess water
3. In a pot boil the 3 cups water, the sugar, the berries and the cinnamon sticks. Cook on medium heat. Stir regularly so as not to have the berries sticking at the bottom of the pot.
4. When the wheat is half cooked (around 15 minutes), add the ground spices and the chopped dried fruits and cook another 20 minutes. In the water has reduced a lot, add some boiling water.
5. The wheat berries should be cooked and fluffy.
6. Serve in small bowls and decorate with the toppings.
Toppings:
· Nuts – Walnuts, almonds, pine nuts, pistachios.
· Pomegranate seeds.
· Fennel candy and candied chickpeas.
· Sugar coated chickpeas and almonds