Faris Ishaq
Commissioned piece
Faris Ishaq – Palestinian Nay master and global jazz flutist – will be premiering his latest composition, commissioned by BCF and based on the Mahmoud Darwish's poem collection, The End of the Night.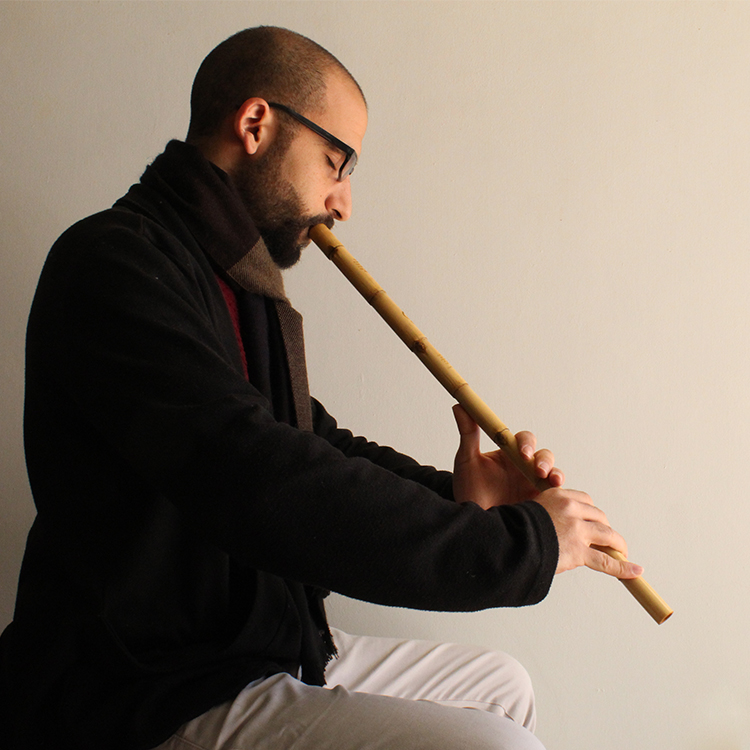 Faris Ishaq
Faris Ishaq is a Palestinian Nay master, global jazz flutist and composer. In today's modern musical landscape, he is on a mission to unlock the ancient nay's maximum potential. While facing stigma often associated with its perceived limitations, he's been able to defy such expectations, performing in demanding idioms such as jazz and other world music traditions.
Pushing the boundaries of his instrument, Faris has performed with world-class jazz musicians like Danilo Perez and George Garzone. In 2018, Faris graduated from the "Global Jazz" Master program at Berklee College of Music, where he was given the "Matt Marvuglio" award for his remarkable achievements in elevating Nay Performance and incorporating Arabic music into Jazz. His sound comes from a deep understanding of Multiphonics, sound effects and percussive playing, which he blends with his compositions, influenced by Arabic, Jazz, and World Music. Faris has a unique approach of blending classical Arabic poetry meters into his improvisation and composition. His newly released album "Tripolarity" contains fresh and innovative rhythms that derive from his poems.
At Panama Jazz Festival, Faris premiered his new solo performance and album entitled "NAY: Nature Addresses You". The performance aims to strengthen the bond between humanity and nature, the call for self-discovery and reconciliation with oneself and sheds light on his performance on the Nay as a global flute, where he expands its performance from melodic to percussive and harmonic expressions. While playing the Nay, he also accompanies himself by playing leg-percussion and frame drum simultaneously.