Palestinian Traditional dress
Maha Saca
Palestinian traditional dresses displayed and presented as a fashion show with commentary by Maha Saca from the Palestinian Heritage Centre of Bethlehem.
A Bethlehemite by birth, Ms. Maha Saca, is the general manager of the Palestinian Heritage Center (PHC) in Bethlehem where many tourists flock and have a taste of Palestinian culture. She was raised in a Palestinian home that nourished in her the love for, and commitment to the homeland, working and giving her all so that Palestine will be forever etched in the minds of all generations at home and in the diaspora.
In her own words:
"I opened the center in 1991, and it has a variety of sections. One section has the household items; the other, has the display of the agricultural tools; the third part holds heritage paintings and a place for all the traditional costumes. I also presented the city, the village and the bedouin tent to let the people see the difference between the city, village and the tent and the way people used to live and the objects they used.
Maha has participated in more than 40 exhibitions around the world.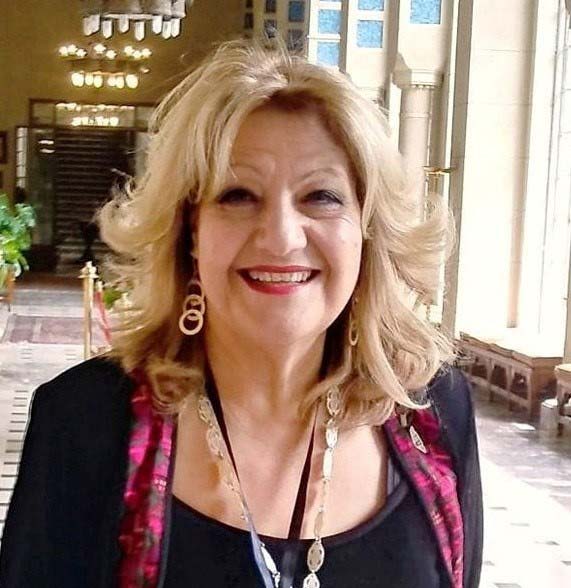 Maha Saca
Maha Saca, Founder and director of The Palestinian Heritage Center which was founded in Bethlehem in 1991 with the purpose of documenting, reviving and spreading the Palestinian heritage as an identity, a historical document and Palestinian roots which extend for thousands of years.
An activist and a researcher in Palestinian heritage. She made several field researches in Palestinian villages, towns and camps to get facts and information first hand from the people.
Holds the title of the Cultural Personality for the year 2013 from the Ministry of Culture.
She Participated in more than forty successful international exhibitions for heritage and shows of heritage customs held in the US, Switzerland, Egypt, UAE, Spain, France, Portugal, Germany, Algeria, Tunisia, Jordan, Lebanon, Bahrain and others. These shows were met with acceptance and appreciation because of the richness and the beauty of our Palestinian heritage.