The End of the Night
Mafar
World premiere of Mafar's latest piece, commissioned by the Bethlehem Cultural Festival and based on the Mahmoud Darwish's poem collection, The End of the Night.
Mafar
(Arabic: مفر translated as The Escape) is a Palestinian four-member alternative rock band. The band was formed in Palestine, Bethlehem in 2014 by the vocalist Jeries Babish and the guitarist Marwan Samamreh. The idea was to recreate a base for the alternative music in Palestine and build a new scene for the independent music in general. "Untitled" is the first album for Mafar which was released in July 2016 and contains 9 songs, and their second 10 tracks album "VISA" released in July 2019 & a single "Post-Apocalypse" released on May 3rd 2020 during the global pandemic covid-19.
Background & Name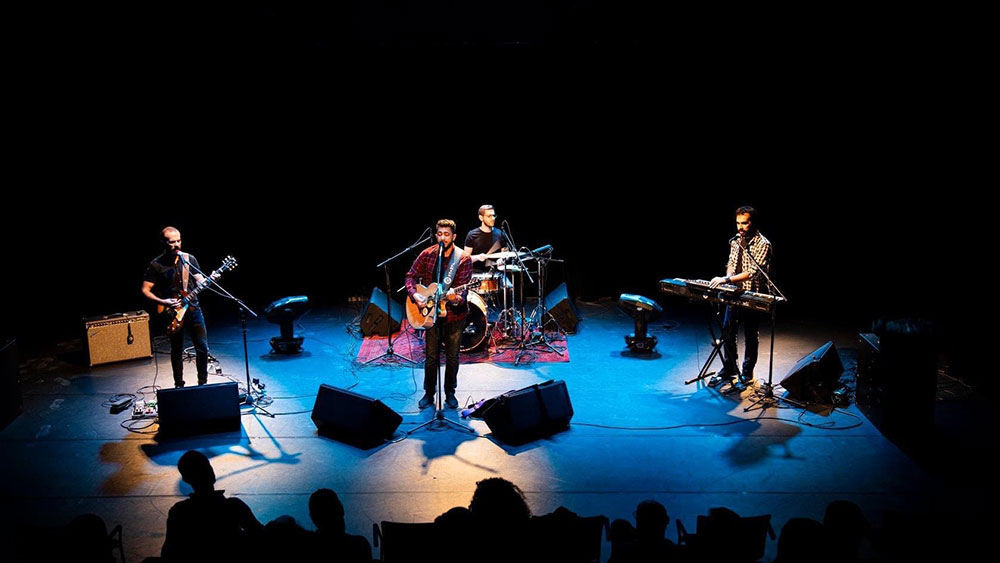 Mafar was formed in September 2014 when Marwan and Jeries first met in Bethlehem University to share thoughts and knowledge about music. They came up with an idea of forming a band and playing different genres locally, but they settled on playing alternative rock and reform the band to include a drummer, a pianist, and later on a lead guitarist. "Mafar" Means (The Escape) which describes life as the maze that people want to escape from. The band is known for their critical lyrics about social and political problems.
The band first started to play small shows and venues including opening acts for famous local bands. Today, the band plays in some of the biggest festivals in Palestine including Bet Lahem Live Festival, Shepherds Beer Festival, Taybeh Oktoberfest, Dandanat music Festival, Pam Fest and finally Palestinian Music Expo. The Palestinian band went internationally by playing in Morocco where they won the second place among many Arab countries in The Arab Festival for Music in the Moroccan city "Guelmim", alongside three individual prizes and a live show in Amman – Jordan.
Official SoundCloud: https://soundcloud.com/mafar-band
Official Spotify: https://open.spotify.com/artist/6kXa1Hf2PD0adLEBGPD1el