International Jazz Day 2021
Posted on 30th April 2021
Music/Mohamed Najem
Today on April 30th, 2021 the Bethlehem Cultural Festival celebrates International Jazz Day. Bethlehem's star musician Mohamed Najem marks the day from Paris. Mohamed Najem is a Palestinian Clarinetist, Nay player and composer
Inteview with Mohamed Najem, following a Palestine Jazz tour in the UK (2017): Palestine Jazz- an interview with Mohamed Najem — Hearing Aid (hearingaidmagazine.com)
Music/Faris Ishaq
A musical path from Berklee to Bethlehem, through compositions by young Nay master Faris Ishaq.
Nay (Nature Addresses You) – Contribution to the official International Jazz Day 2021 celebrations full event will be streamed on April 30th and replayed on May 5th through Facebook Live: Faris Ishaq | Facebook
Trailer: (9) N A Y: Nature Addresses You | ناي : نفس أرض يبوح – YouTube
Excerpt: "Thoth's messenger" Thoth's Messengers – رسل تحوت | Faris Ishaq Solo Nay & Percussion – YouTube
Link to full Concert, International Jazz Day 2021 (available from 8pm Palestine/6pm UK time on 30th April 2021) : https://youtu.be/C9Gb4VXUK-M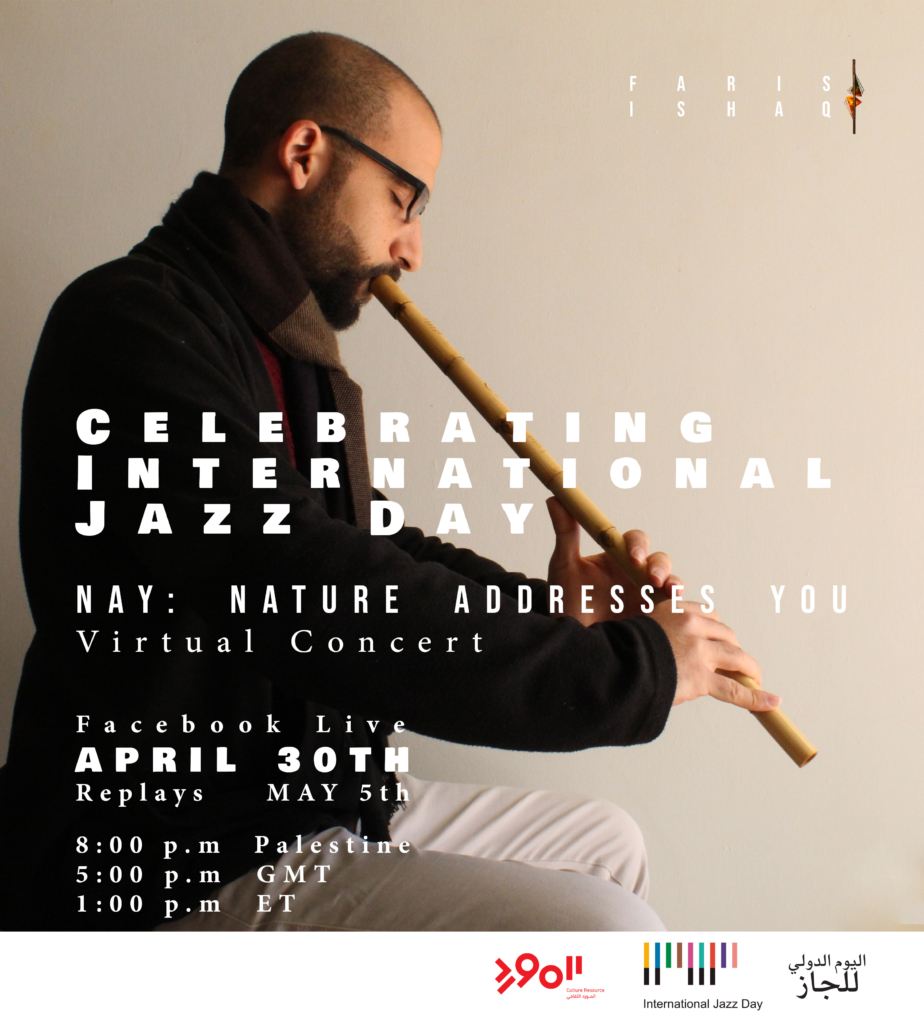 A Mad Lullaby
A Mad Lullaby | Faris Ishaq Quartet feat. Jireh Calo – YouTube
Children, born free from judgment. How far can we avoid feeding them facts, that don't belong to a definite truth? A Mad Lullaby from the Album " Tripolarity" | The Nay, a journey of self-exploration. An ancient contemporary sound, waiting to unravel the hidden truth of its own legacy.
«The nay is an ancient flute that dates back to 5000 B.C. As natural as the nay is, in order for its sound to come out, a consistent reflective connection has to be made between the instrument, the player and the environment within which it is played. Playing the nay has always intensified my connection with my inner voice and has been my permanent companion in my journey of self-exploration and self-reconciliation.
The lockdown was an opportunity to slow down, comprehend the essence of what was happening and highlight the inner connection between oneself and nature as a vital part of us. "NAY : Nature Addresses You" is a journey narrated by the nay calling for self-discovery. Musically, I will shed light on the nay as a global flute, where I expand its performance from melodic to percussive and harmonic expressions. Moreover, the session will showcase my innovation of a new performance set that consists of playing simultaneously the nay, leg-percussion and frame drum».
Website: Music | Faris Ishaq
Music/Tareq Abboushi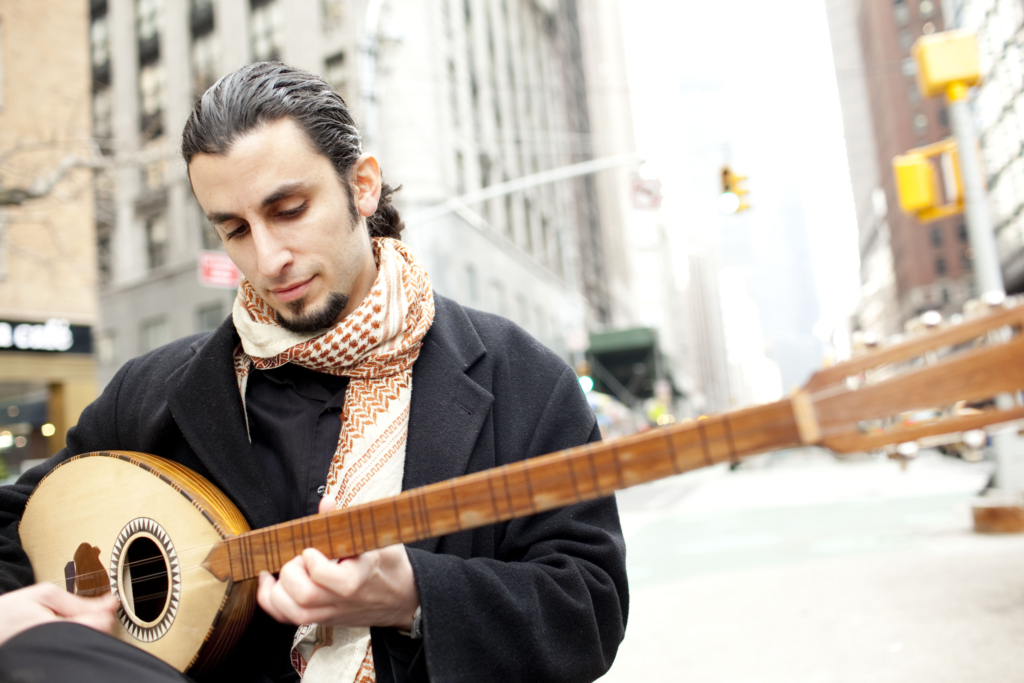 A Palestinian multi-instrumentalist, bandleader, and a graduate with honors from William Paterson University with a Jazz Piano Performance degree. Abboushi has been playing the buzuq since 1997, and has performed with such notable musicians as Simon Shaheen, Omar Farouk Tekbilek, and Lotfi Bouchnak. His work in film soundtracks includes the award-winning "Encounter Point"- best musical score 2006 Bend Film Festival, "Man From Plains" (2007), and the Oscar-nominated "Rachel Getting Married" (2008), the later two directed by Jonathan Demme.
His teaching profile includes numerous lecture demonstrations about Arab Music at Columbia University, NYU, Juilliard, The Museum of the City of New York, and the Children's Museums of Brooklyn and Manhattan. For the academic year of 2008-2009, he was selected to teach Arab Music at Agder University in Norway. Since 2012, he has been teaching at the Edward Said National Conservatory of Music.
Abboushi's discography includes "One" and "Mumtastic" with his band SHUSMO; "Two Rivers," "Inana," and "Crisi" with Amir AlSaffar, and appearances on three albums with Dan Zanes: "Parades and Panoramas," "House Party" and "Night Time!" (winner of "Best children's CD of the year- 2002" by amazon.com).