Day Five, Dish Five: Mujadara
Posted on 7th December 2020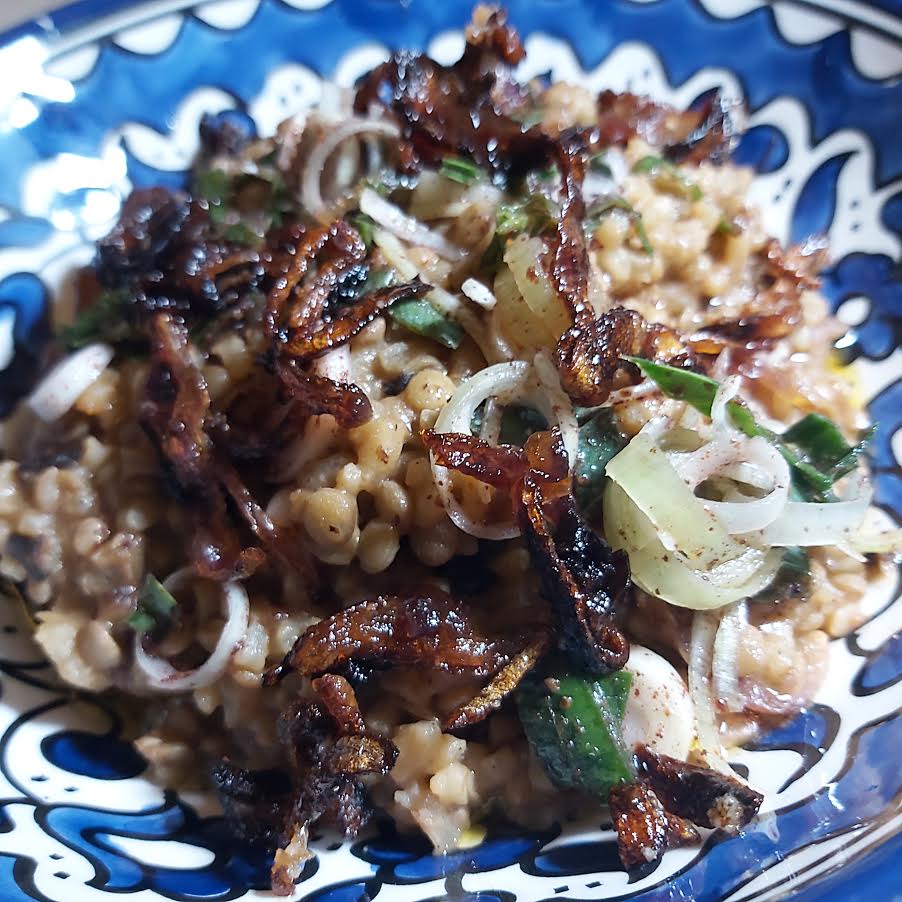 The Mujadara :
Ingredients For 4 people
1 ½ cup of green dry lentils
1 tsp of cumin
1 tsp of coriander
4 red onions
2 cups of medium grain rice
1 tsp of cinnamon
1 tsp of sugar
½ cup of olive oil
2 lemons (juiced)
1 or 2 green onions
2 tsp of sumac
Cook the lentils in a large pot full of salted water for 20 minutes.
Once they are cooked drain them in a colander.
Peel and slice the red onions in thin "moon shape" half circles.
Heat a pan on high heat with some olive oil.
Place the onion slivers in the pan, sprinkle with a bit of salt and gently stir to coat with the oil.
Reduce the heat and cover. Cook for 5 to 7 minutes.
Sprinkle the sugar on top of the onions and increase the heat. When caramelized, remove them from the heat.
Place one half of the onions on kitchen paper to cool and the other half with the oil in the pan.
In a large pot, heat the rest of the olive oil, put the spices and stir them for 30 seconds.
Add the rice, stir well to mix in the spices.
Cover with 3 ½ cups of a hot water. Bring to a boil.
Reduce the heat to medium and let it cook for 3-4 minutes.
Add the lentils over the rice. Leave to cook for 10 to 15 minutes.
Add the onions and oil and stir once. Leave to cook until the water is absorbed and the rice and lentils are cooked.
Turn off the heat and let sit covered for 10 minutes.
Prepare the dressing: chop finely the green onions, mix with the lemon juice and the sumac.
Serve the mujadara in a serving dish while fluffing it with a fork. Sprinkle the dressing on top. Decorate with the reserved crispy onions.