Online book launch on 16 March
Posted on 2nd March 2022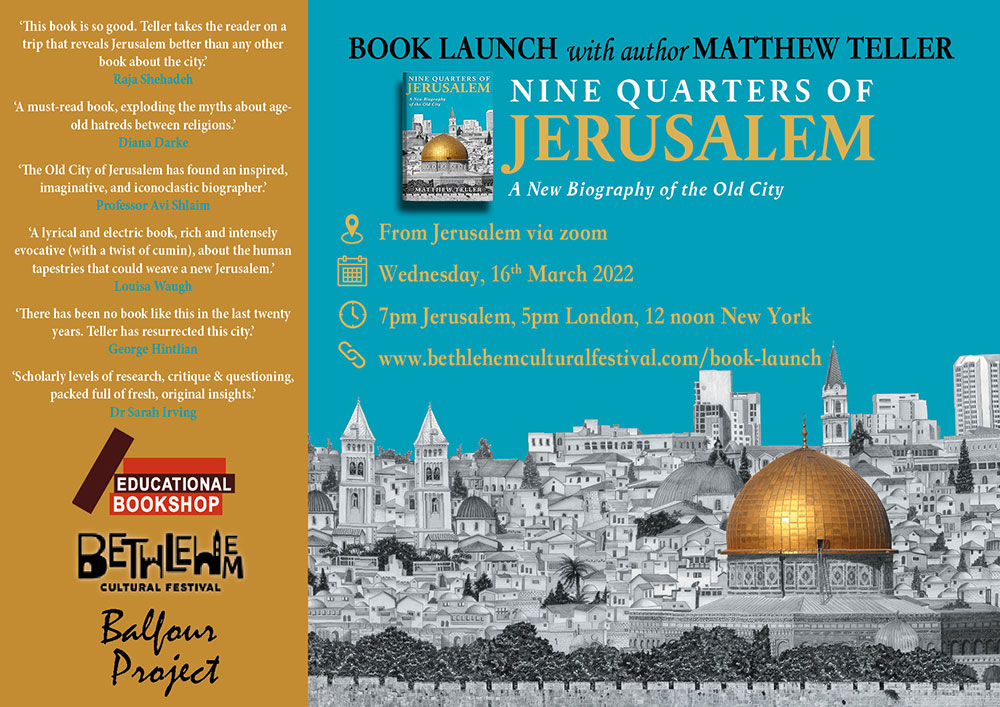 The Bethlehem Cultural Festival is excited to announce a special event this March!
We will be hosting the online book launch of the new book Nine Quarters of Jerusalem by Matthew Teller. During this online event, the author will be in conversation with Mahmoud Muna of the Educational Bookshop – joining us straight from Jerusalem.
In Jerusalem, what you see and what is true are two different things. Maps divide the walled Old City into four quarters, yet that division doesn't reflect the reality of mixed and diverse neighbourhoods. Beyond the crush and frenzy of its major religious sites, much of the Old City remains little known to visitors, its people overlooked and their stories untold.
Nine Quarters of Jerusalem lets the communities of the Old City speak for themselves. Ranging through ancient past and political present, it evokes the city's depth and cultural diversity. Matthew Teller's highly original 'biography' features the Old City's Palestinian and Jewish communities, but also spotlights its Indian and African populations, its Greek and Armenian and Syriac cultures, its downtrodden Dom Gypsy families and its Sufi mystics. It discusses the sources of Jerusalem's holiness and the ideas – often startlingly secular – that have shaped lives within its walls. It is an evocation of place through story, led by the voices of Jerusalemites.
Join us on the 16th of March by registering through the button below.
The event will be held via zoom at 7pm Jerusalem time,
5pm London time, 12 noon New York time
This event is organised jointly by: Bethlehem Cultural Festival, The Educational Bookshop in Jerusalem and Balfour Project.