Day One, Dish One: Musakhan
Posted on 3rd December 2020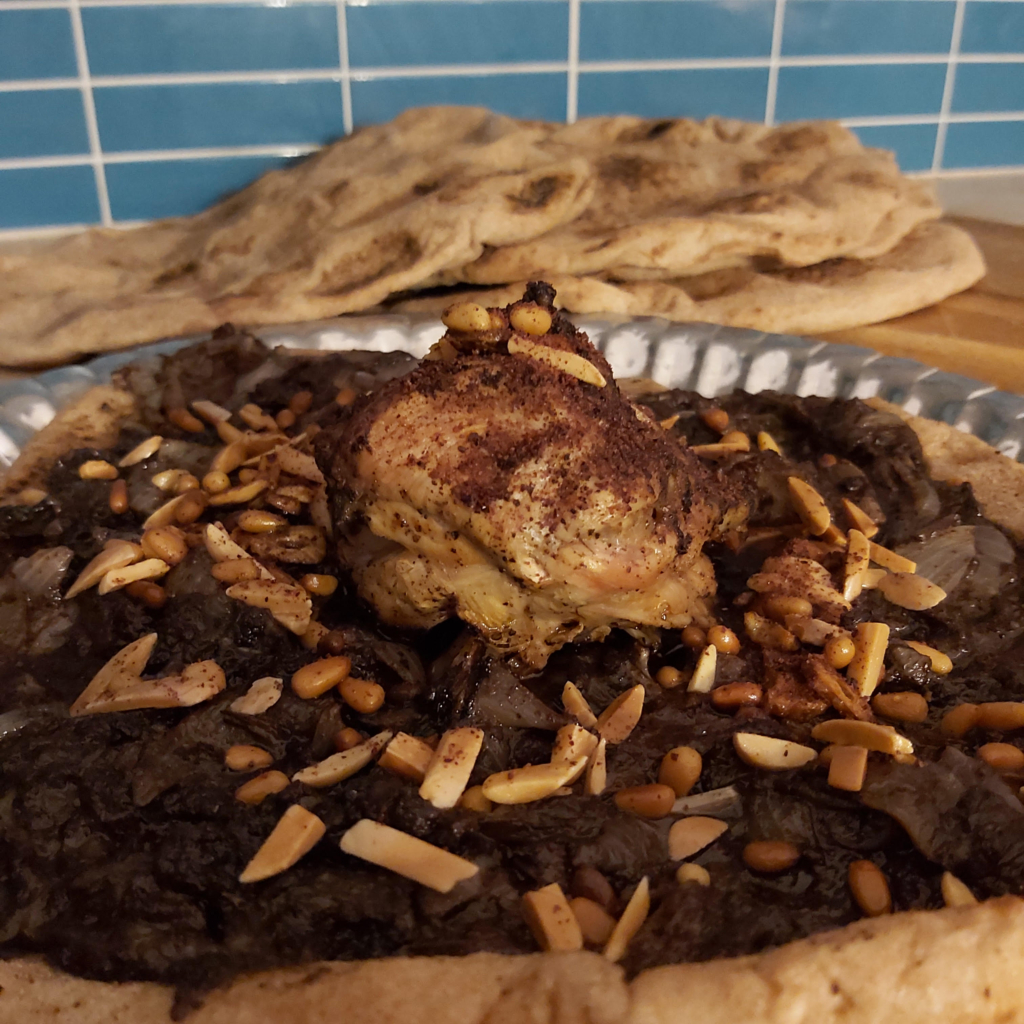 A special Palestinian recipe from Chef Fadi Kattan...

" Musakhan symbolises for me one of those seasonal dishes that celebrate Palestine's terroir and olive oil. What better than to have a musakhan dripping with freshly pressed olive oil in Sebastya? The bread, the onions, the sumac and the olive oil take me to sunny days in Sebastya with the flavours and perfumes of this fantastic dish. "

Fadi Kattan
Ingredients
1 whole chicken cut into 4 pieces
6 cardamom pods
2 bay leaves
14 onions
600 ml Olive oil
200 gm sumac
2 tablespoons Palestinian Dead Sea salt
1 teaspoon cumin
½ teaspoon black pepper
½ teaspoon allspice
100 gm pine nuts
4 taboun breads
Method
1. Poach the chicken in the water with the bay leaves, cardamom pods, allspice, black pepper, 1 teaspoon of salt and 1 onion cut in half
2. Heat your oven at 200 degrees C
3. While the chicken is poaching, cut the remaining onions in half moon slivers
4. In a pan, place the onions and cover with olive oil. Sautee until the onions have gone translucent but still retain firmness. At that point sprinkle half the sumac, one teaspoon of salt and the cumin onto the onions
5. Once the chicken is cooked, remove the chicken from the broth, sieve the broth and put back onto the stove to reduce.
6. Rub the chicken with the second half of the sumac, a pinch of salt and olive oil. Place in the oven 5 minutes to colour.
7. Dip the taboun bread in and out of the broth.
8. Place the taboun onto a roasting pan, cover with the onions, the chicken and sprinkle some of the oil from the onion and sumac on the chicken. Heat in the oven for ten minutes.
9. Colour the pine nuts in a pan with a dash of cooking oil.
10. Sprinkle the pine nuts over the musakhan and serve.