The role of theatre in Palestine and the UK
Marina Barham, David Greig, Sami Metwasi and Nicola Zreineh
Marina Barham, Co-founder and General Director of Al Harah Theatre, and Scottish playwright and Theatre Director, David Greig, discuss the challenges and opportunities facing theatre-makers in Palestine and the UK with Sami Metwasi and Nicola Zreineh.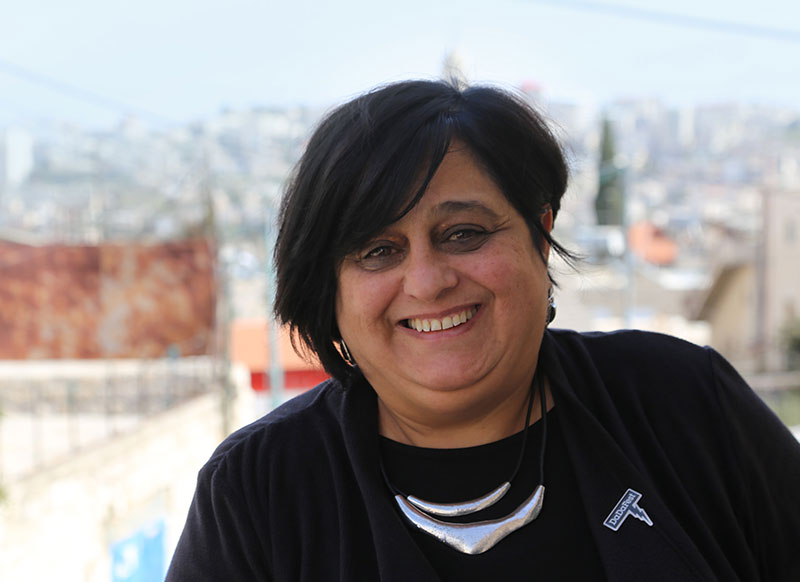 Marina Barham
Marina Barham, cofounder and General Director of Al-Harah Theater, and Al-Harah Performing Arts Training Center (PARC), President of the Palestinian Performing Arts Network, Palestine. Vice President of Euromedinculture Network and TAMASI Collective for Performing arts Organizations from the MENA Region. An active cultural operator in Palestine, the Middle East and in Europe.
A 2017-2018-2019 Fellow of ISPA and Fellow of Salzburg Global Seminar.
A Trainer in the field of Cultural Management in the Arab World. A speaker at several European conferences, festivals and events on the importance of performing arts in Palestine and the Arab world.
Produced many theater productions and coproductions. Managed and organized several international, regional and local tours. Managed several Euro-med Projects funded by the EU and organized Palestine International Theater Festival for Children and Youth & Yalla Yalla Street festival in Palestine.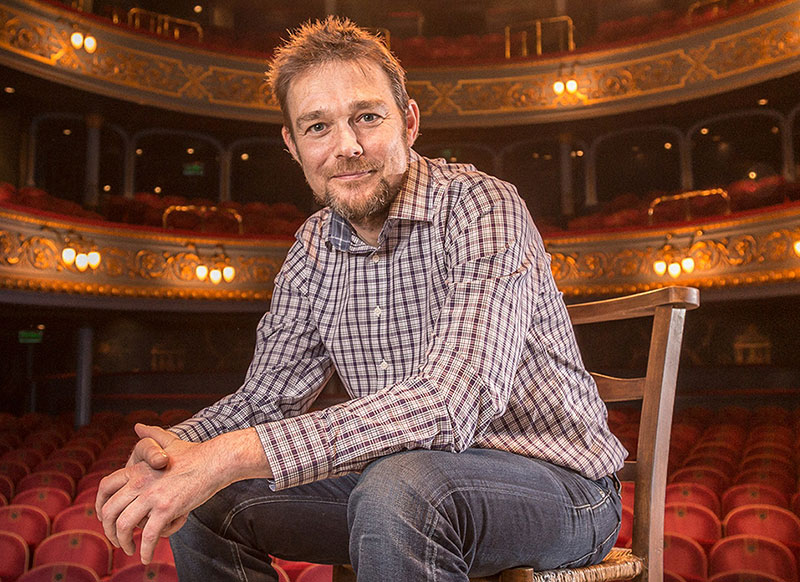 David Greig
David Greig was born in Edinburgh in 1969. He spent much of his childhood in Jos, Nigeria during the 1970s where his father worked in the construction industry. In 1980, his family returned to live in Edinburgh, where he went to school. His first involvement with theatre was with Edinburgh Youth Theatre where he acted in a number of shows. In 1987, he went to Bristol University to study English and Drama.
He graduated from Bristol University in 1990, and began to work with Graham Eatough and Nick Powell as Suspect Culture on the Edinburgh Fringe. Over two years he wrote and directed five shows and was twice nominated for The Guardian Student Drama Award and won a Scotsman Fringe First for Stalinland.
In 1993 he moved to Glasgow where Stalinland was produced by the Citizens Theatre and he received his first professional commissions from The Traverse Theatre and The Royal Court. Since then he has written many plays, most of which have premiered in Scotland. From 2005 to 2007 he was the first Dramaturg of The National Theatre of Scotland.
Since his first main stage production Europe, at The Traverse in 1996, his work has been produced extensively abroad. His plays have been translated and produced in most of the countries of Europe, The USA and Canada, Brazil, Australia, Japan and Korea.
He continued his association with Suspect Culture through the 1990s and into the 2000s. With Graham Eatough, Nick Powell and Ian Scott he worked to develop a theatre process in which writing and narrative was part of but did not overwhelm the other aspects of production. Suspect Culture became a professional company based in Glasgow in 1995 with their first production One Way Street and thereafter they developed and produced new work to great acclaim in Scotland and Europe. Suspect Culture lost their funding in 2008 and are now dormant as a theatre company. Graham, Nick, Ian and David all continue to collaborate with each other, however, in work for other companies or in other contexts.
David has worked extensively as a workshop leader on projects to teach or develop playwriting. He has a particular relationship with writers in the Middle East. He has worked extensively with playwrights in Palestine, Egypt, Syria, Lebanon, Tunisia and Morocco. In Damascus a group of writers with whom he worked went on to found The Street, a group dedicated to producing and developing new work in Syria. In 2010 they produced a book, Stories of Spirit and Cement for which David wrote the introduction. He also worked with April De Angelis on a major two year collaboration between the Royal Court Theatre and The British Council. The plays produced in that project were published in English and in Arabic and have been given performed readings New York, London, Beirut and Cairo. David is currently the Artistic Director and joint-Chief Executive of the Royal Lyceum Theatre in Edinburgh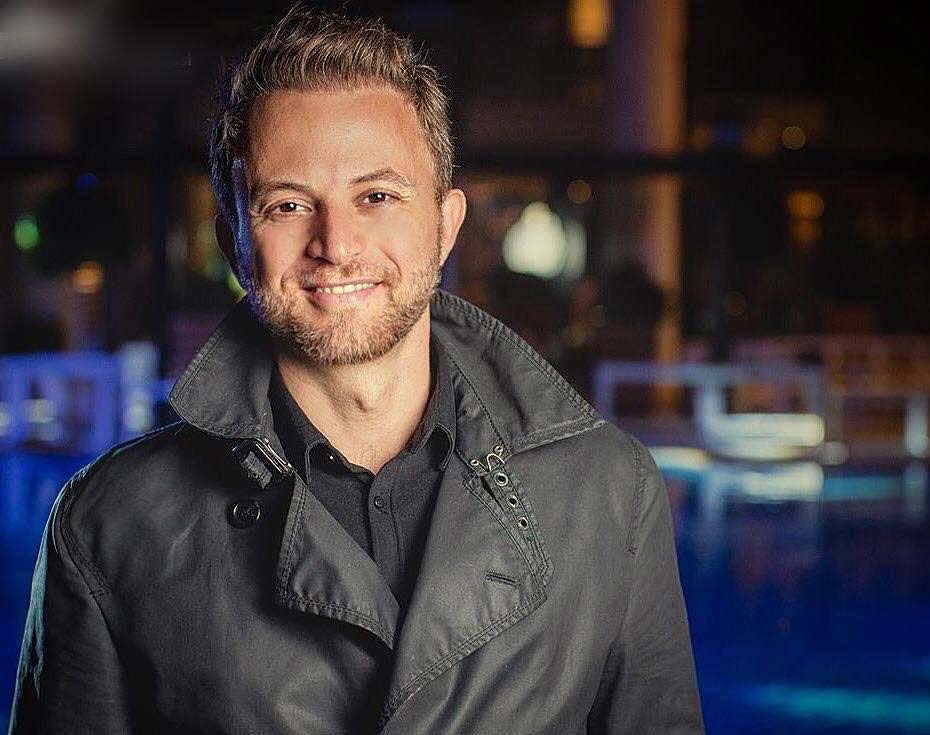 Sami Metwasi
An international Artist, has an extensive experience around the world in Acting, Writing, Directing, Music, Arts management-training and development. A winner of UNESCO Ashburg Artist's scholarship award for 2000 placed in India, a co-founder of two theatre companies in Palestine were he co-directed Key and Life that won Best Play at the Philadelphia Jordan Festival, and wrote/directed Born In Bethlehem, toured in Britain, Italy and Egypt. In the USA he devised plays and performed with International WOW Company, the Arab American Comedy Festival, Children Museum and International Humana Festival.
Two of his short plays Souvenir and Maklubeh were also produced there. In the UK, he was granted a residency at Red Ladder Theatre also co-wrote/directed and coproduced Sunlight at Midnight. One of his latest debut was on the Globe Theatre where he played King Richard II, and got lots of good British Reviews, also in Palestine he was a lead role in the American/Palestinian play 'Holiday, and in the still touring play 'Roses & Jasmin'. Metwasi's latest screen credits includes; FILM- 'Love Theft and Other Entanglements' which was in theatres in Europe, Dreams I'v Never Had, OverSized Coat, Behind the Sun (turning point), Gaza-London, The Spider Web,. TV- Warak AlWarrd (Rose's Petals), Jerusalem Gate, We Disagree, Haleemyat,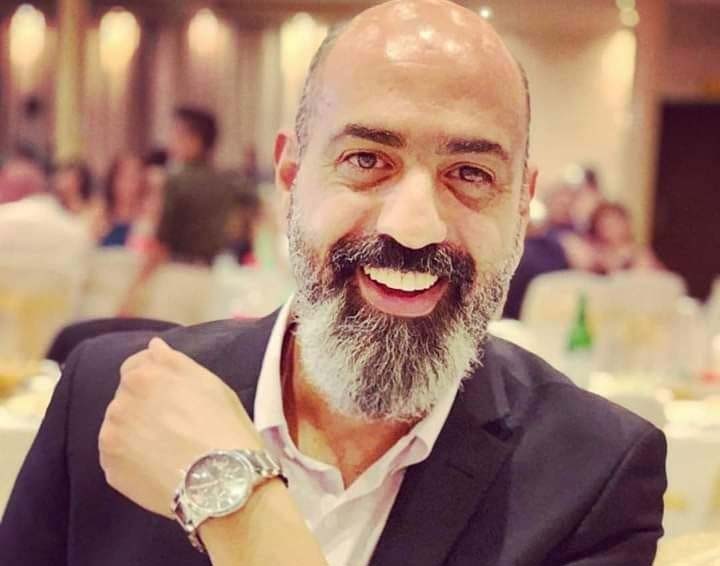 Nicola Zreineh
Nicola Zreineh is an actor and co-founder of Al-Harah Theater. He got his diploma in acting from Ashtar Theater, Ramallah. He is currently working as deputy and artist at Al-Harah Theater. He acted in different plays. TV series, and films with different Palestinian and international directors. Won the best actor at the Arab Children Theater Festival in Jordan in 2004 for his role in the play "The Little Match Girl".